Saraswati Puja Pushpanjali Mantra Lyrics (সরস্বতী পুষ্পাঞ্জলি মন্ত্র) In Bengali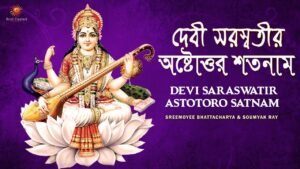 Saraswati Puja Pushpanjali Mantra Lyrics (সরস্বতী পুষ্পাঞ্জলি মন্ত্র) In Bengali
নসরস্বতী পুষ্পাঞ্জলি মন্ত্র – Saraswati Pushpanjoli Mantra Bangla Song Lyrics. This song Singing by Sreemoyee Bhattacharya & Soumyak Ray. Music Composed by Sreemoyee Bhattacharya. This is a Fantastic song. Everyone will have a lot of fun listening to this song. I hope, everyone will find peace by listening to the song. This song Publish "Bengali Latest Hits" youtube channel. If anybody need Bangla Lyrics & English Lyrics, they can easily got it by this website.
Song Information:
Song: Saraswati Pushpanjoli Mantra – সরস্বতী পুষ্পাঞ্জলি মন্ত্র
Singer : Sreemoyee Bhattacharya & Soumyak Ray
Music : Sreemoyee Bhattacharya
Lyricist : Traditional
Label : Kristi Creation
সরস্বতী পুষ্পাঞ্জলি মন্ত্র লিরিক্সঃ
ওঁ জয়জয় দেবী চরাচর সারে
কুচযুগশোভিত মুক্তাহারে,
বীনারঞ্জিত পুস্তক হস্তে
ভগবতী ভারতী দেবী নমহস্তুতে।।
নমঃ ভদ্রকাল্যৈ নমো নিত্যং
সরস্বত্যৈ নমো নমঃ।
বেদ বেদাঙ্গ বেদান্ত বিদ্যা স্হানেভ্য এব চ।
এষ স-চন্দন পুষ্পবিল্ব পত্রাঞ্জলি সরস্বতৈ নমঃ।।
সরস্বতী দেবীর প্রনাম মন্ত্র :
নমো সরস্বতী মহাভাগে
বিদ্যে কমললোচনে,
বিশ্বরূপে বিশালাক্ষ্মী
বিদ্যাংদেহী নমোহস্তুতে .
জয়জয় দেবী চরাচর সারে
কুচযুগশোভিত মুক্তাহারে
বীনারঞ্জিত পুস্তক হস্তে
ভগবতী ভারতী দেবী নমহস্তুতে।।
সরস্বতীর স্তব মন্ত্র : 
শ্বেতপদ্মাসনা দেবী শ্বেত পুষ্পোপশোভিতা
শ্বেতাম্ভরধরা নিত্যা শ্বেতাগন্ধানুলেপনা
শ্বেতাক্ষসূত্রহস্তা চ শ্বেতচন্দনচর্চ্চিতা।
শ্বেতবীণাধরা শুভ্রা শ্বেতালঙ্কারব‌ভূষিতা।
বন্দিতা সিদ্ধগন্ধর্ব্বৈর্চ্চিতা দেবদানবৈঃ
পূঝিতা মুনিভি: সর্ব্বৈঋষিভিঃ স্তূয়তে সদা
স্তোত্রেণানেন তাং দেবীং জগদ্ধাত্রীং সরস্বতীম্।
যে স্মরতি ত্রিসন্ধ্যায়ং সর্ব্বাং বিদ্যাং লভন্তি তে।।
সরস্বতী দেবী বন্দনা :
Singer : Sayani Palit
Composer & Lyricist : Traditional
জয় জয় দেবী, জয় জগজননী
জয় জয় সরস্বতী, মাই
জয় জয় দেবী, জয় জগজননী
জয় জয় সরস্বতী
জয় জয় ভবানী, জয় শর্বাণী
জয় ত্রিভুবন, সুখদায়ী
জয় জয় ভবানী, জয় শর্বাণী
জয় ত্রিভুবন, সুখদায়ী
তেরি মায়া অনন্ত অপার,
যা কো, কো নেহি পায়ি
জয় জয় দেবী, জয় জগজননী
জয় জয় সরস্বতী
হস্তকমল মো বীণ বাজাভে,
যা মে সব, সুর গাই
দুজে হাত বিরাজত পুস্তক
বেদ শ্রুতি উপজায়ী
জয় জয় দেবী, জয় জগজননী
জয় জয় সরস্বতী
তেরি রূপ ভয়ো সব বিদ্যা
সুর-নর চরণ নমাই
পদ্মনাভ প্রভু, চরণ শরোরুহ
সেবক কে মন ভায়ী
জয় জয় দেবী, জয় জগজননী
জয় জয় সরস্বতী,
জয় জয় সরস্বতী,
জয় জয় সরস্বতী
Saraswati Puja Pushpanjali Mantra Lyrics
Om joyo joyo devi chorachoro sare
Kuchojugo sobhito mukta hare
Binaronjito pustoko hoste
Bhagabati bharati devi namostute
Namho Vodrokallyoi nomo nityang
Namho Saraswati mohabhage
Biddey komolochone
Biswarupe bishalakhi
Bidyangdehi namostute